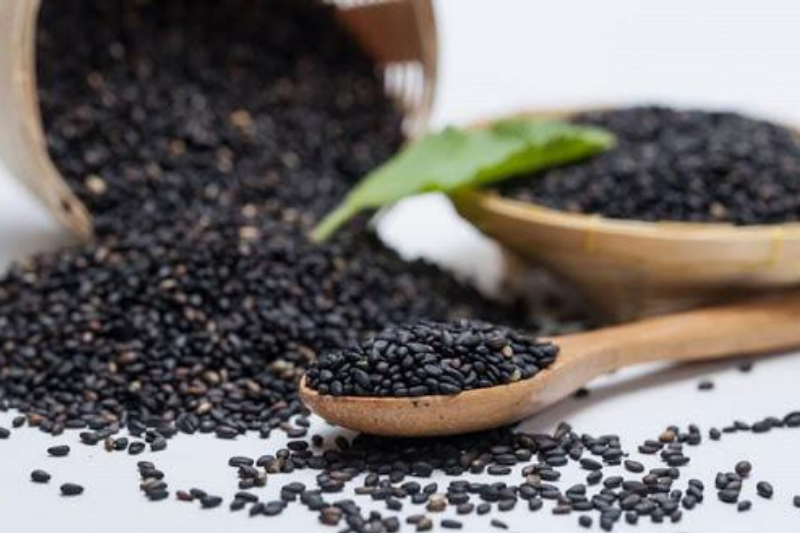 There are three varieties of sesame seeds: black, white and red. The black seeds, which I use to press Andreas Black Sesame Oil, yield the highest quality oil, and are also best suited for medicinal purposes. These small seeds are densely packed with nutrients, including protein, lignans, and fiber. Containing high concentrations of vitamin E and multiple forms of B vitamins, including thiamin, riboflavin, niacin, and folic acid, this sesame seeds have been proven to be beneficial for promoting the overall health and development of several systems in the body.
The high medicinal value of sesame seeds and sesame seed oil can be found throughout historical documentation, having been used as a healing oil for thousands of years. In traditional Chinese medicine, sesame seed oil is known to promote lactation, aiding breast-feeding mothers.
Sesame seeds have also been used to alleviate the symptoms of menopause due to the lignans found in the seeds. Sesame seed oil has been used extensively in India as well, due to its many benefits as a healing oil, including studies that show its ability to clear plaque buildup from arteries.
In recent experiments in Holland by Ayurvedic physicians, the oil has been used in the treatment of several chronic diseases, including Hepatitis. See also Ayurvedic Medicinal Properties of Sesame by Dr. Savitha Suri.
Studies show that another one of the benefits of sesame seeds is as a potent antioxidant due to the lignan, sesamin, found in the seeds. It has also been shown to possess natural antibacterial, antiviral, antifungal, and anticancer properties due to the presence of the lignans. The anti-parasitic abilities of sesame seeds, especially in the removal of worms from the intestines, is also well known. Studies support that Black Sesame Oil may be used for aiding in digestion, stimulating blood circulation and benefiting the nervous system, amongst other health benefits.
Health Benefits of Andreas Black Sesame Seed Oil
Anti-aging 
Full of powerful antioxidants
Defends against harmful free radicals 
Rich in essential nutrients 
Keeps Bones Healthy - magnesium, phosphorus, calcium, copper, iron, and zinc all play a role in maintaining bone density
Kidney Health  
Anti-parasitic -removes intestinal worms 
Can promote lactation in nursing mothers 
Helps balance hormones 
Decreases symptoms of menopause
Nourishes hair 
Stimulates blood circulation  
Supports the nervous system  
Helps protect against DNA damage from radiation due to sesamol 
Due to the process I use to press Andreas Seed Oils, the lignans and nutrient-coded fibers naturally remain in the oil, aiding in the delivery of the full benefits of the seeds.