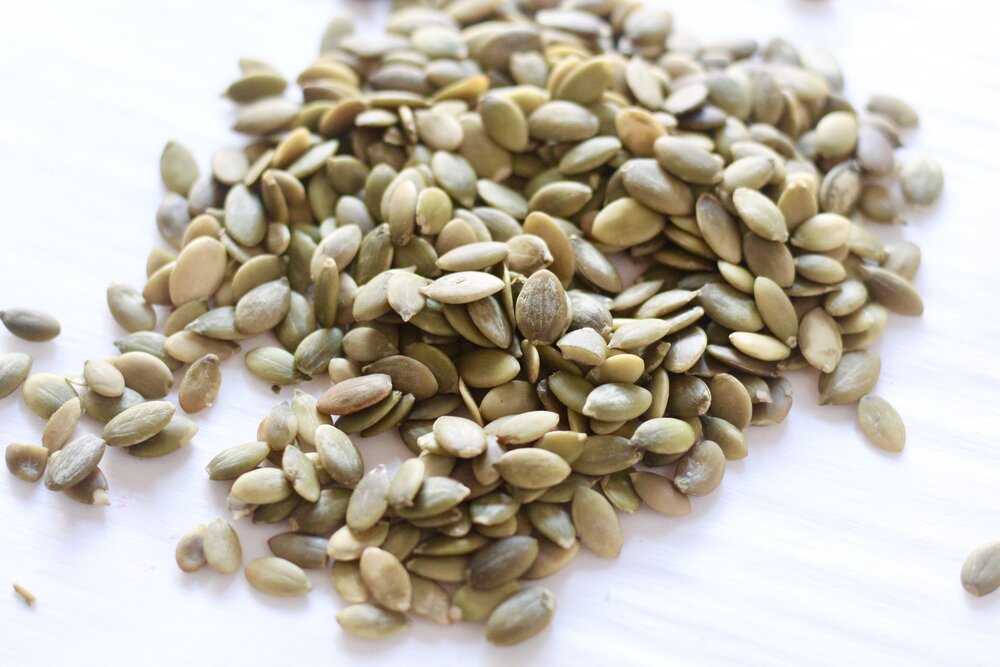 From moisturizing skin to beating bacterial infections, coconut oil has been the latest craze.
But there's a new oil on the block. Reaping with beauty and health benefits, experts say it's time to replace coconut oil with pumpkin seed oil, which is being touted as the new must-have. Holistic queen Gwyneth Paltrow is already a fan a huge fan, including it heavily in her latest cookbook, It's All Good.
What is important about pumpkin seed oil nutrition? The nutrient-rich oil contains the essential amino acid tryptophan. Research shows that tryptophan has a positive effect on sleep and mood. Pumpkin seeds are an excellent source of zinc, which is maintained through the production of pumpkin seed oil. Pumpkin seeds are also a valuable source of magnesium, potassium, zinc, manganese, and copper.
Nutritional Support for Cancer Patients
Pumpkin seed oil supports the health of cancer patients and may decrease the cancer risk in general, according to research. It could reduce the effects of specific carcinogens, which suggests the potential to naturally treat various types of cancer. A study published in the journal Nutrition and Cancer in 2013 found that lignans in pumpkin seeds can possibly prevent and treat breast cancer. Another study published in the International Journal of Oncology in 2011 found that a dietary supplement with pumpkin seed can help inhibit or decrease the growth of prostate cancer cells. The antioxidant properties in the oil may also protect against radiation and intestinal damage from the cancer treatment methotrexate.
Boosts Mental Health
The Cucurbita maxima compound in pumpkin seed oil may help improve memory. In a study published in the Canadian Journal of Physiology and Pharmacology in 2007, the tryptophan content in the oil was found to be an effective treatment for social anxiety disorder. Tryptophan is also linked to a more peaceful sleep.
Supports Prostate Health
Pumpkin seed oil is reported to benefit prostate health in general and help protect against prostate cancer. A study published in the journal Urologia Internationalis in 2011 found that pumpkin seed oil can decrease the size of an enlarged prostate, especially in age-related prostate enlargement known as benign prostatic hyperplasia. In other studies, pumpkin seed oil and saw palmetto oil combined to safely treat benign prostatic hyperplasia.
Treats Diabetes
Both type 1 and type 2 diabetes can be managed and treated with a good diet, which may include pumpkin seed oil. A study published in the Journal of the Formosan Medical Association in 2013 found that pumpkin seed oil has antihyperglycemic abilities and may, therefore, be useful as a natural diabetes treatment.
Relives Overactive Bladder
Pumpkin seed oil can be part of maintaining a healthy excretory system. For instance, a study published in the Journal of Traditional and Complementary Medicine in 2014 suggested that the extracts from pumpkin seed oil effectively treat urinary disorders, such as an overactive bladder. For the study, 10 grams of pumpkin seed oil extract was given daily for a 12-week period.
Fights Hair Loss in Men
Androgenetic alopecia is a condition also called male-pattern baldness. A double-blind, placebo-controlled study published in the journal Evidence-Based Complementary and Alternative Medicine in 2014 found that men taking pumpkin seed oil for 24 weeks showed a hair count increase by an average of 40%. Pumpkin seed oil is a hair loss remedy due to its high zinc content, which will balance hormones and subsequently benefit hair growth.
Coconut oil contains vitamins E and K; pumpkin seed oil is rich in those and vitamins A and B (which is connected to hair growth), as well as zinc (which is vital for scalp health and hair strength). Pumpkin seeds are loaded with all the nutrients that your hair could ever want, like protein, omega-6 fatty acids, zinc, and iron.
Anti-Inflammatory Benefits
Pumpkin seed oil has been found to exhibit anti-inflammatory effects. One study even found it worked as well as the anti-inflammatory drug indomethacin in treating arthritis, but without the side effects.
It kills parasites in the intestines
Pumpkin seed oil kills worms and other parasites that can grow inside the human intestines. Studies carried out in China, showed that it could be an effective treatment for people with acute schistosomiasis, which is a disease that is caused by a water-borne parasite that is found mainly in Africa and Asia. Yuk.
Benefits for skin
Because pumpkin seed oil is rich in vitamin E, zinc, omega 3- and 6- fatty acids as well as antioxidants it has tremendous benefits for the skin in terms of retaining moisture, fighting free radicals and maintaining a youthful appearance. The high amounts of zinc and vitamin E also improve skin tone, help wounds heal more rapidly, fight acne and help with skin renewal. Lastly, many of the minerals and vitamins have anti-aging effects as well.
Various health experts swear that the zinc and vitamin E from pumpkin seeds can help to fight off acne and stop scars from forming.
 
Use it as a body lotion! Some people are even calling pumpkin seed oil the new coconut oil. Pumpkin seed oil is also an anti-inflammatory, so it can be useful for reducing redness and blemishes on the skin caused by acne and other skin irritations.
Getting enough pumpkin seed oil in your diet is the best way to enable your body to fight against skin-related issues like aging, acne, pimples and the appearance of premature fine lines. To experience immediate results, you can apply it directly onto your skin.
Like coconut oil; pumpkin seed oil is a carrier, meaning you don't have to mix it with anything else before slathering it on your skin. Though you can mix it with essential oils if you want the aroma.
Simply rub it onto clean skin or add equal parts of tea tree oil or witch hazel to create an anti-acne toner that will keep your skin balanced all summer long.